Travel Medication Supply
Vacation Override Service Provides Medication for Extended Time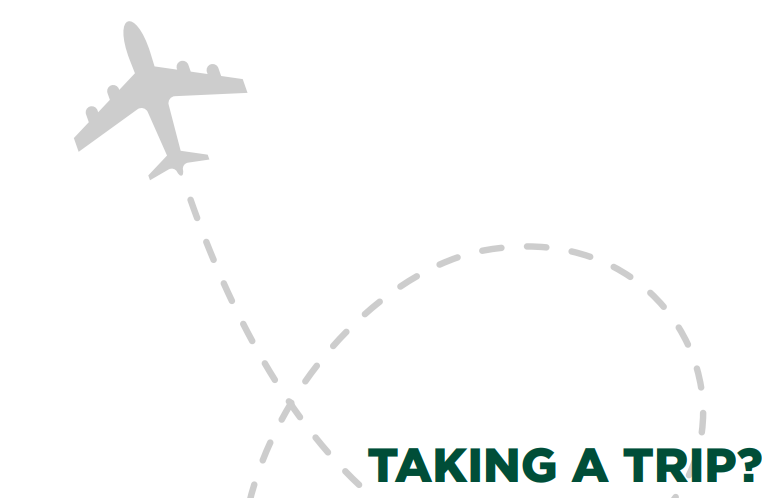 Imagine having all your medication with you when you travel. No hassles of having to transfer prescriptions to an unknown pharmacy. Using the MSU Health Care Pharmacy Travel Medication Supply, the Spartan Pharmacists who know you and your physicians can provide a supply for travel.
Make your pre-travel arrangements even easier by using our free on-campus delivery and within a 30-mile radius
MSU Health Care Pharmacy is here to make sure you do not go without your medication. Our expert pharmacy technicians will work with you to determine the medications and amounts needed for your trip. Remember, our knowledgeable pharmacists are available to counsel you with any questions you have even when you are traveling.
Most insurance benefits will refer to this as a vacation supply on the policy. This can be as simple as an early refill request or as hefty as a full-year supply.
3 Simple Steps Get You On Your Way:
1. Download and fill out our "Prescription Override Worksheet" or pick one up at at either pharmacy location.(downloadable PDF below)
2.Bring the "Prescription Override Worksheet" to the MSU Health Care Pharmacy or email it to msuhealthcarepharmacy@msu.edu
3.Work with one of our pharmacy staff members to ensure all your medications are available for refill.
Some Restrictions Apply
Keep in mind that there are always restrictions when it comes to insurance. Most insurances require the patient to call when requesting more than a covered refill amount.
For example: if your insurance allows a three-month supply and you need a six-month supply, you may have to make a phone call. Insurance can also restrict the number of times you can request a "vacation supply".
MSU Health Care Pharmacy encourage patients to inquire with their insurance about any restrictions before applying for an override. It is helpful to have insurance on board before the pharmacy starts to fill the request.