SyncRx
MSU Pharmacy's Prescription Refill Program.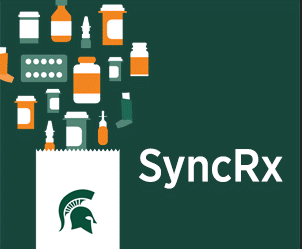 MSU Health Care Pharmacy are striving to increase the odds that medications will be taken as prescribed by working with insurance plans to offer MSU patients a service that synchronizes medication refill dates.
SyncRx - Purpose
When medications must be refilled at different times of the month, people are more likely to miss a dose and may need to travel up to four times a month to pick up the prescriptions from the pharmacy. With SyncRx, there are fewer trips to the pharmacy; saving you time and money, while ensuring you stay on your prescription schedule!
How the SyncRx Program Works
Each month or every 90 days, the pharmacy will review your profile in advance to ensure refills are available on prescriptions, resolve any insurance issues and make sure the medications are in stock. When it is time for your medications to be filled, they will be prepared and you will be notified to pick them up. It's a better experience for you and helps to avoid missed doses.
Exclusions to the Program
Not all medications are eligible for the synchronization program. As-needed drugs for pain or medications such as antibiotics, designed for only short-term use, are excluded. Other products, such as inhalers or eye-drops, might not be available for partial fills.
This program works most efficiently with chronic medical conditions that require consistent prescriptions every month. The pharmacy staff member calling you at your monthly or 90-day call will ask you about these medications to help reduce your visits to the pharmacy.
Questions? Just Ask
The MSU Health Care Pharmacy is committed to the success of this program. We value our customer's needs in aligning medications to gain time, cost savings, and minimize any complications that may contribute to missing a dose. Please contact a pharmacy staff member to learn more about SyncRx if you have additional questions. Please call 517.353.3500
Sign Up and Bring Us The Form
Download our sign up contract and bring it with you to the pharmacy the next time you come in. You can hand it to any pharmacy associate and they will be happy to answer any further questions you have.