Nutrient depletion is an often overlooked side effect of some medications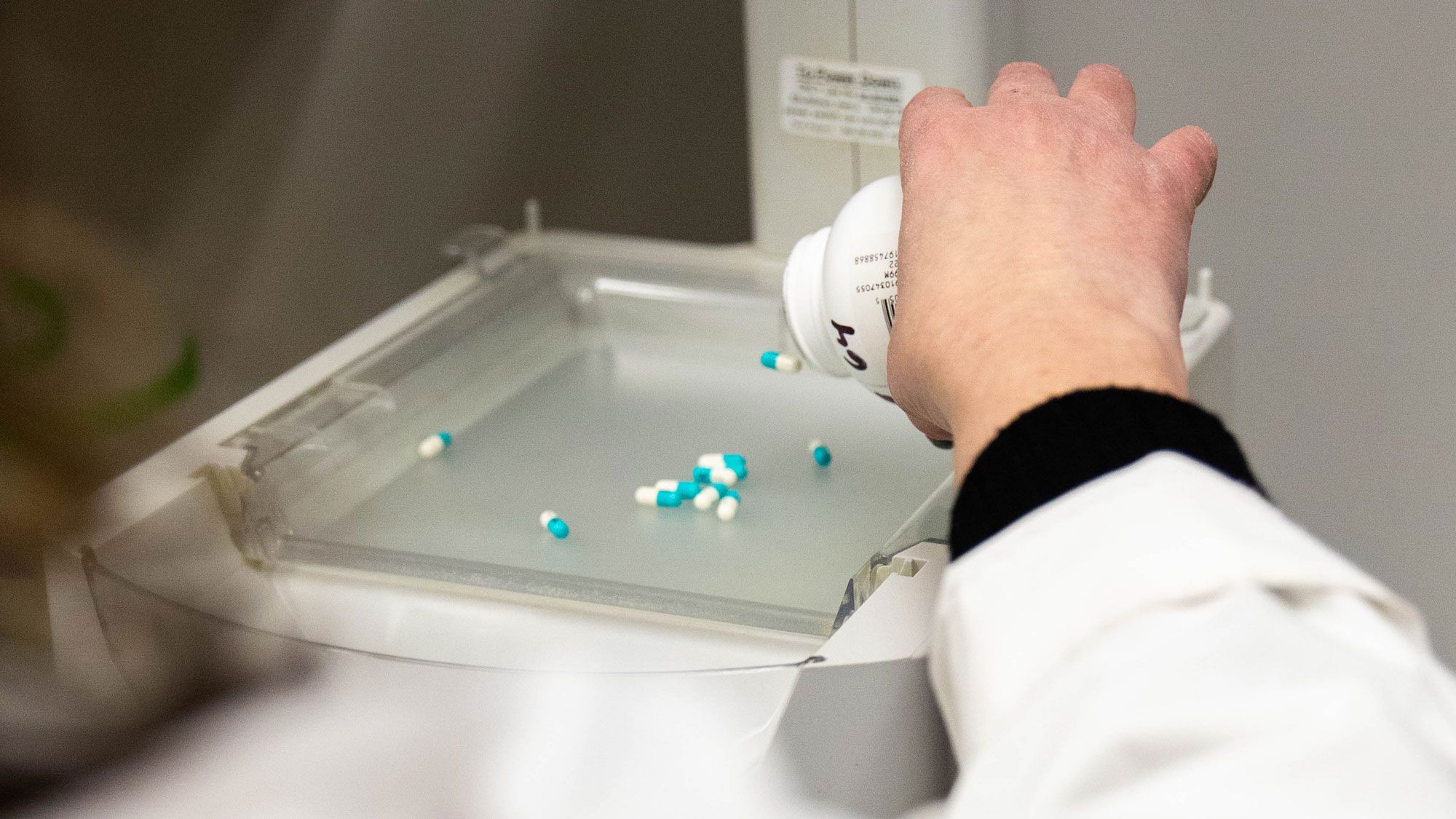 Pharmacist counts pills at MSU Health Care Pharmacy
June 22, 2021
While medications are powerful tools to help manage a range of illnesses and diseases, they can also come with a variety of side effects. Patients often know to look out for common side effects such as drowsiness or nausea but may not be aware of how their medications can cause nutrient depletion. Many medications used short-term won't lead to nutrient deficiency; however, longer-term use can diminish or deplete some of the body's stores of important vitamins, minerals, and nutrients.
Nutrient depletion can potentially cause the development of underlying ailments and increased doctor visits if overlooked. Because the body uses nutrients to function, a loss can create other unwanted side effects including anemia, depression, pale skin, fatigue, and more severe medical issues. "This can be for many reasons, including comorbidities and by pharmacologic treatments," said Dr. Sandra Campbell, MSU Pharmacy Director. "But sometimes a drug may interfere with your body's ability to absorb a nutrient from a dietary source."
Antiepileptic drugs are one example of a medication class with a higher risk of nutrient deficiencies, possibly reducing absorption or increasing the excretion of vitamins. "If patients are on long term Dilantin, Tegretol or Lyrica, they may need potential nutrient supplementation such as biotin, folic acid, vitamin D, or vitamin K," said Sandra Campbell, PharmD, and MSU Health Care Chief Pharmacist. Patients should consult with their physician or pharmacist prior to taking supplements to see if they are needed, monitor potential interactions, and ensure the correct dosage.
Over-the-counter (OTC) and prescription drugs and possible nutrients affected include:
Acid-suppressants and antacids - Calcium, potassium, vitamin B-12, zinc
Allergy medications - Calcium, folic acid, magnesium, potassium, selenium
Antibiotics - B-complex, calcium, vitamin K
Anti-inflammatories - Calcium, folic acid, vitamin C, zinc
Anti-epileptics – biotin, folic acid, vitamin D or vitamin K
Cholesterol medications - Coenzyme Q10 (CoQ10)
Diabetes medications - CoQ10, folic acid, vitamin B-12
Many factors can affect nutrient levels, including diet, lifestyle, medical history, and the length of medication usage. The MSU Health Care Pharmacy can help patients select supplement options and make recommendations upon a review of the patient's medications. The pharmacy also has a wide selection of OTC or over-the-counter products and can special order any OTC supplement that is needed. Ultimately, patients should always talk to their provider and pharmacist regarding any symptoms and side effects from their medications to ensure proper treatment.